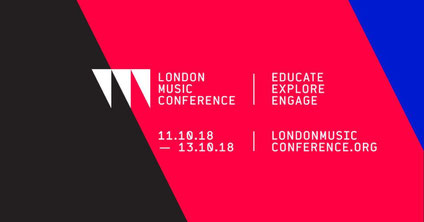 London Music Conference ha comunicato ulteriori dettagli del suo programma di eventi e dei relatori che parteciperanno all'edizione di questo weekend. All'appuntamento di tre giorni, che coprirà una vasta gamma di argomenti relativi alla musica dance, dall'educazione alla prossima generazione di dj, produttori e promotori, parteciperanno tantissimi professionisti. L'elenco completo, compresi nomi di spicco di case discografiche, dei club, degli editori, è stato reso noto da quakche ora. 
Gli eventi si svolgeranno in una serie di importanti sedi di Londra: dall'Oval Space al Pickle Factory, dall'UNDR passando per il Moustache Bar; gli eventi e i panel si terranno durante il giorno e saranno seguiti dalle serate al The Egg, al Ministry of Sound e all'Hospital Club. I panel includeranno discussioni sul fatto che la realtà virtuale avrà un posto di rilievo nel futuro della musica dance, su come sfruttare al meglio le piattaforme di streaming come Spotify e le ragioni del successo della scena dei club londinesi.
Ci saranno workshop, come una masterclass su mixaggio di dub dal leggendario Mad Professor, e una vetrina di etichette, con le 10 principali in una sola notte di musica ricca di ritmo.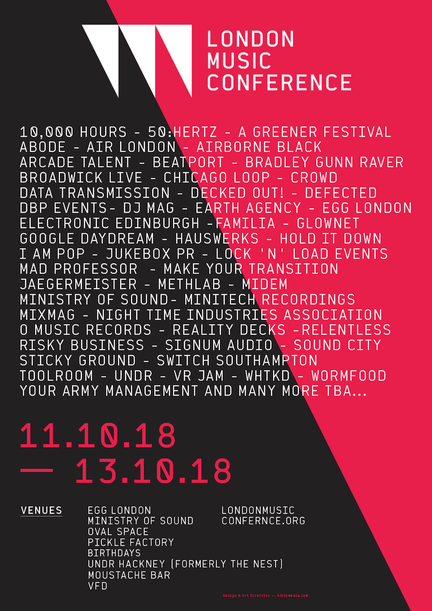 Ecco l'elenco dei partecipanti
Aaron Hornibrook (Hold it down)
Aiden Jude (CROWD)
Alan Miller (Night Time Industries Association)
Alex Donald (EGG London)
Alex Jukes (Jukebox PR)
Amie Evans (Ihartpr)
André Marmot (Wormfood)
Ant Wilson (Chicago Loop)
Becky Ayres (Sound City)
Ben Durrenberger (Signum Audio)
Bradley Gunn Raver
Carly Wilford
Chantal Epp (Clicknclear)
Charlotte Cijffers (DJ Mag)
CHILLY MOX (Risky Business)
Danjeli Schembri (Signum Audio)
Dave Alcock (Arcade Talent)
David Oyston (Air London / The Bassic Agency)
Declan McGlynn (DJ Mag)
Derek Martin (Electronic Edinburgh)
DESNA (Risky Business)
Duncan Dick (Mixmag)
Elmar van Eijk (Korsakov)
Emma Zillmann (From the fields)
Faroukh Hasham ( Minitech Project )
Georgia Girl
Giacomo Cavadini
Grahame Farmer (Data Transmission)
Greg Ivanov (Google Daydream)
Harry Willis (I AM POP)
Hauswerks
Inder Phull (KRPT)
Irene Zumbo (The Brand Garage)
Javier Lopez (Midem)
Kai Cant (Abode)
Kathi Longinus (London Music Conference)
Lucinda Runham (Decked Out!)
Lucy Blair (Spotify)
Luke Curtis (Portrait, Editorial & Music Photographer)
Mad Professor (Ariwa Sounds)
Mark Newton (Broadwick Live)
Matt Digby (Beatport)
Meena Ysanne (Meena's Tribute Orchestra)
Miguel Estevez (UNDR Hackney - formerly NEST)
Mike Gillespie (The Sunday Club, Underworld)
Mitch de Klein (50:HERTZ)
Nick Halkes (XL Recordings)
Nick Sadler (The Label Machine)
Nikki Gordon (Ministry of Sound)
Oliver Wilson (10,000 Hours)
Otto Orlandi (O Music Recordings / O Music Management)
Owen Norton (CROWD)
Owyn Sidwell (Your Army Management)
Paul Nickeas (Midem)
Paul Nolan (Make Your Transition)
Paul Sawyer (Frisky Radio, Krafted)
Pete Downes (Jukebox PR)
Philip Mackenzie (Reality Decks)
Phutek
Rens van Nellestijn (Full On Funk)
Rob Starr (Eastern Electrics)
Rob Chadwick (Catch Recordings)
Robert Yilmaz (Lock 'N' Load Events)
Ru Hollier (Guild of Music Supervisors)
Ryan Keary (Dirty Box Promotions)
Sam Mooney (Ministry of Sound)
Sam Speaight (Virtual Reality Jam)
Sara Simonit (Risky Business)
Saranne Reid (Sample Clearance Services, Reids Media Law)
Scarlett Pares Landells (Defected Records)
Shamsher Walia (Floss Creatives)
Siebe Gerbranda (Glownet)
Simon Hills (Axtone)
Sinisa Tamamovic (Night Light Records)
Stefan Baumschlager (Sendmate)
Steve Stimpson (Concrete Promo / Evermix)
Stuart Knight (Toolroom Records)
Teresa Moore (A Greener Festival)
Tom Carson (Mast-Jägermeister UK)
Tom Cathcart (Last Resort Records)
Tom Riley (OWSLA)
Tom Szirtes (Mbryonic / Amplify VR)
Tony Allen (No Excuses Records)
Victoria Nicole Smith (Toolroom Records)